'We shall succeed jointly', rather than 'I shall succeed
solely, has always held her in high esteem in the hearts of
her co-artisans, well-wishers as well as the Indian and
foreign print media who have spoken volumes on her.'
Blue Pottery is widely recognized as a traditional craft of Jaipur, though it is Turko-Persian in origin. The name 'blue pottery' comes from the eye catching cobalt blue dye used to color the pottery. Jaipur blue pottery, made out of a similar frit material to Egyptian faience, is glazed and low-fired. Some of this pottery is semi-transparent and mostly decorated with bird and other animal motifs. Being fired at very low temperature makes them fragile. The range of items is primarily decorative, such as ashtrays, vases, coasters, small bowls and boxes for trinkets.
An eminent name working towards the promotion of this art form is Ms. Leela Bordia and her firm Neerja International. She has not only reinstated this intricate craft back to its lost glory of the yesteryears but has also been the originator of innumerable new and innovative Blue Pottery articles.
Her policy of 'We shall succeed jointly', rather than 'I shall succeed solely' has always held her in high esteem in the hearts of her co-artisans, well-wishers as well as the Indian and foreign print media who have spoken volumes on her.
ARCH students from the Interior Design College Department, got a chance to work under the guidance of Ms. Bordia and did the Exhibition Space Design Project for Neerja International at the IHGF Delhi Fair organized by EPCH in India Expo Center and Mart, Noida. Vaibhav Gurjar, Ayushi Jain, Nishal Makhija, Kajol Agrawal and Ijya Gupta were the students who worked on designing the exhibition space under the guidance of faculty members Dr. Neena Jaju and Ar. Ronak Dhagra.
Ayushi Jain feels, "We got a chance to turn designs we think of into reality".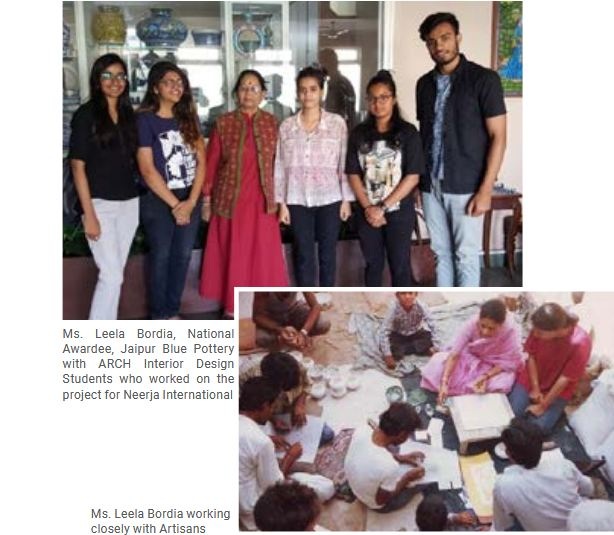 It took 8 days for our students to analyze products, understand the client's requirements and design settings in a way that customers get inspired to interact more. Podiums, stools, racks and stairs were used to facilitate the display. The main task was to design the front wall. Students went to Neerja International's office at Jaipur to accomplish the task. The designs and installations were later moved to the Delhi based venue.
Vaibhav Gurjar said, "We got to work at a professional level and learn technical and practical aspects of exhibition space".
Branding of the company and promotion of the craft was an imperative part of the project. The display was created showcasing the product range with all available sizes to provide customers with all available options. Plates and mirrors designed with blue pottery were the best selling products.
It was a good learning experience for the students who learnt to work in a given time frame and come up with designs in spite of limitations. Dealing and coordinating with clients and vendors was also a part of student's learning experience. Students received appreciation certificates too from Ms. Bordia.