This article is written by Pranjal Joshi based on his interview of Ekeshwar Hatwal
Ekeshwar Hatwal is an eminent artist and a Head of Department at ARCH College of Design and Business. He has vast experience in mediums like oil paint, water-colors, print making, sculptures, sketching and drawings.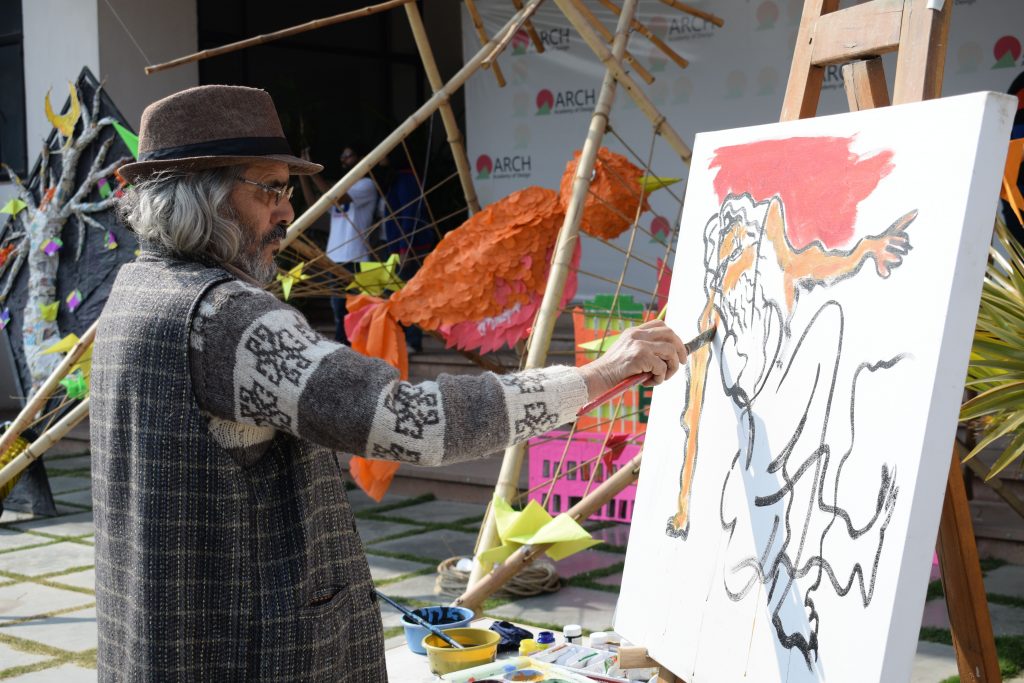 Ekeshwar making painting of Bhishm Pitamah on the occasion of Makar Sankranti as Bhishm Pitamah had a pastime associated with this day.
I was born at a village named Gadora on the banks of river Alanknanda in Chamoli district of Uttarakhand. I was born in a religious family and my father was an astrologer who used to make horoscopes.
Rickshaw puller in bronze made by Ekeshwar Hatwal
He used to make beautiful pictures in the horoscope, which inspired me in my childhood. I used to copy those photos and drawings of those horoscopes in my Art notebook and show them to my teacher. It was when I was in 7th class that I first realized that I was an artist, since our Arts teacher appreciated my work. I felt that God has sent me to do some special work.
I never got anything 'easily' in my life, I struggled a lot. I did signboard paining for livelihood. Then I went to Dehradun to study Fine Arts.
I was later appointed as the professor of Fine Arts at the Rajasthan School of Arts. I taught there and learnt there as well. I was in the 'world of Art' at that time. I also taught 'Applied Arts' at the Rajasthan School of Arts and became well-known as an artist.
After retirement, I joined ARCH. Now, I teach fundamentals of Arts and advertising Art to Graphic Design students and basics of Design to Design students of Jewellery, Interior and Fashion. In ARCH, there are good students whose skills are to be polished. ARCH has many good workshops and artisans. Faculty is hard-working and well-qualified, studios are well-equipped with machines and instruments. Environment is friendly to Art and Design students.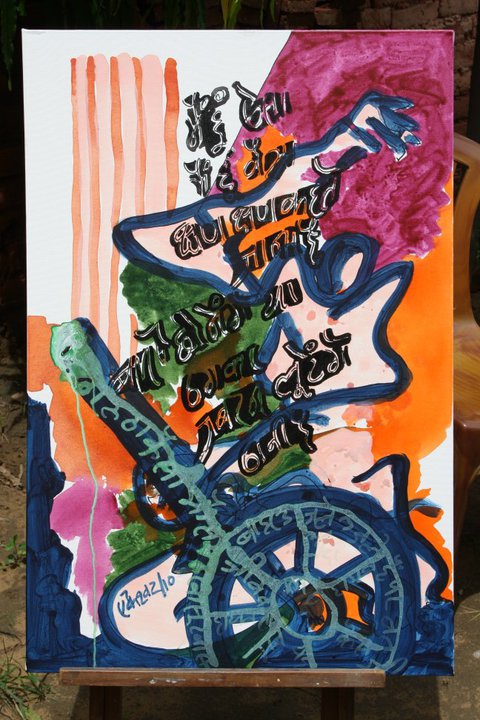 A painting made by Ekeshwar Hatwal
Everyone expresses himself in a verbal language but an artist converts it into 'visual language', he expresses, communicates and entertains through visuals. I try to spread visual literacy because in Applied Arts, we mainly use two languages, one is verbal language and other is Visual language. I stress on Visual literacy.