From learning to design, to getting inspired by anyone's idea or their design world, to learning the art of listening to hidden voices, to challenging your idea of ​​design through every perspective, are qualities that ARCH College of Design and Business try to inculcate within their Design Thinkers to make them not just the designers but one of the great designers.
"Design creates culture. Culture shapes values. Values determine the future."
With us, we came up with an innovative and interesting idea of Pink City Design Culture Confluence 2022, which leads the design thinkers towards a better and more efficient pathway by giving them an opportunity to learn from the experiences of some renowned speakers. So, on 9th March 2022, we had an informative and interactive inauguration with some inspiring speakers, named, Princess Gauravi Kumari, Shri Mahavir Sharma, Dean of Design Culture Prof. Bhargav Mistry and Archana Surana, Founder & Director of ARCH College of Design & Business.
What does Pink City Design Culture speak for?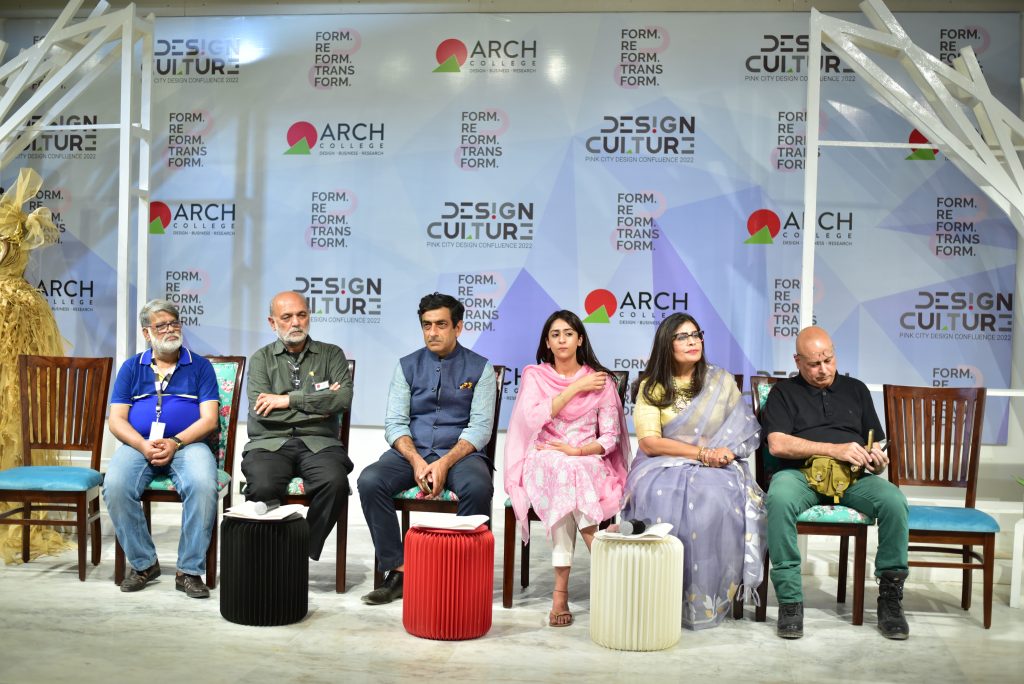 Design culture is continuously evolving in every sector around the globe and digitalization has opened many more options along with it. Therefore, ARCH College of Design and Business introduced an interactive confluence in 2022, named, Pink City Design Confluence to expose design thinkers to a new level of creativity which brings them and the speakers together on a path to become ready to experience sustainable design future endeavours. Creativity with the essence of knowledge and technology gives birth to incredible innovation that our society needs with the power of humanity, sustainability, and Harmonious livability inculcated within their designs.
Through this initiative, we are trying to bring out the true definition of designing that is not just limited to how the design looks. Today the more important thing in designing is what the design speaks and tries to convey. The designs with strong creative solutions scream for the challenges it represents, so, that it becomes easier for the people out there to face them easily every day of their life.
The Design thinkers will get to understand the different segments of design through this confluence, named, Design Sense, Design Sensitivity and Design Understanding which altogether builds a design culture more beautifully to solve complex problems at different levels of society, governance, industry, education, health care, or general activities.
Especially when it comes to the diverse culture of Rajasthan, we celebrated its importance through a runway walk, where the students picked a variety of Rajasthani cultural highlights to showcase them in the form of self-designed clothes be it the world-famous sweet Ghewar or different Rajasthani embroideries.
What had the speakers presented to the design thinkers?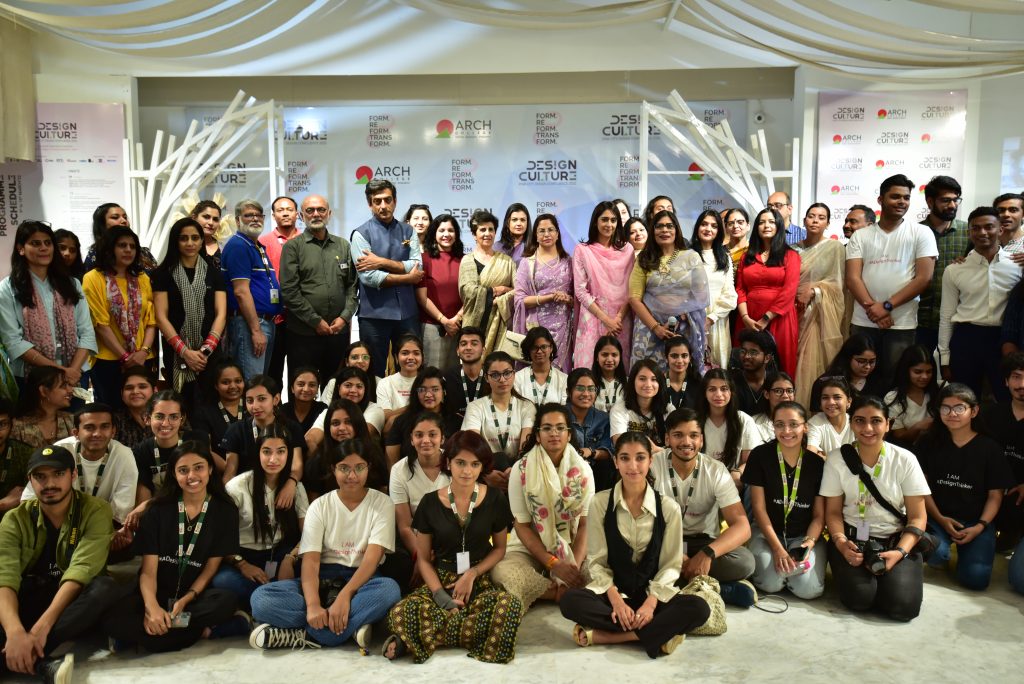 Archana Surana addressed the inauguration with her welcome speech stating that Design is all-pervasive. It's no more a way to make things look pretty. Its meaning has evolved to offering creative solutions to myriads of challenges or activities that people undergo in day to day living, in a way that can be easily accepted and adapted to.
She is the Founder and Director of ARCH College of Design & Business and contributes to the youth space and women empowerment with all her positive support. Her vision has taken her to the levels of strong design and entrepreneurial education approaches through the Women Mentors Forum founded by her. Also, She is an active member of various forums such as TiE, Cii, Cumulus, ADI, IFFTI, WDO and driving change through many policy forums.
Princess Gauravi Kumari the younger daughter of Princess Diya Kumari has always believed in being vocal about the local to continue the tradition of royal Jaipur by supporting its small home brands, which is always reflected in her dress code as she wears traditional embroidered sarees. She is a media and communication specialist from NYU, she is currently the General Secretary of the Princess Diya Kumari Foundation (PDKF) founded by Princess Diya Kumari Ji. She offers her creative and innovative guidance in introducing new design ideas to the existing management of traditional Rajasthani art by women of the foundation. She spoke about the great Maharaja Jai Singh who created Jaipur & brought artisans from all over the country to make and learn from the culture of art and crafts of Jaipur.
Shri Mahavir Pratap Sharma is a part of the ARCH family. He has been involved in the Design Culture initiative since the beginning through the Design Culture Learning series and his presence at the Design Culture floor inauguration was a perfect alignment of stars. He is an inspiring entrepreneur who is a part of twelve businesses and social organisations and supports the design thinkers by showering love through investing as angels, leaders and mentors. He is also founder and Co-founder of organisations such as Rajasthan Angel Innovators Network, Oscar Expo Design LLP- Manufacture and Export Silver Carpet and Jewelry, Swishin Events LLP- Event Management Company, Marketing and PR; Jaipur Jewellery Show Jaipur Kaleen park Ltd (JKPL), Hari Om Decor-aka S. Raja to name a few.
He spoke about how the beginning of the designer journey offers you to be experimental and raw. He explained the shift of paper to the digital design world and how it has brought new opportunities in the market for you to grab.
The thought behind the design is one that carries more weight. No amount of product awareness and popularity is worth the cause you are fighting for. Also, he taught to be intelligent about everything to focus righteously on both short term and long term goals.
Professor Bhargav Mistry is an educator & Product Designer along with being the Dean of Design Culture organised at ARCH College of Design & Business. He presented the agenda behind PCDC – Pink City Design Culture by throwing some light on how design and technology are affected by evolution and changed the scenario of unprecedented opportunities and challenges to humanity in the way we live and survive.
Final Word:
Therefore, there's still time for you to experience and learn what true designer or entrepreneur means only by registering yourself at https://www.archedu.org/designculture2022/
So, do not miss the opportunity to show your talent, express your thoughts and gain knowledge about various design perspectives to fully understand and appreciate good ideas and contributions for a better future.